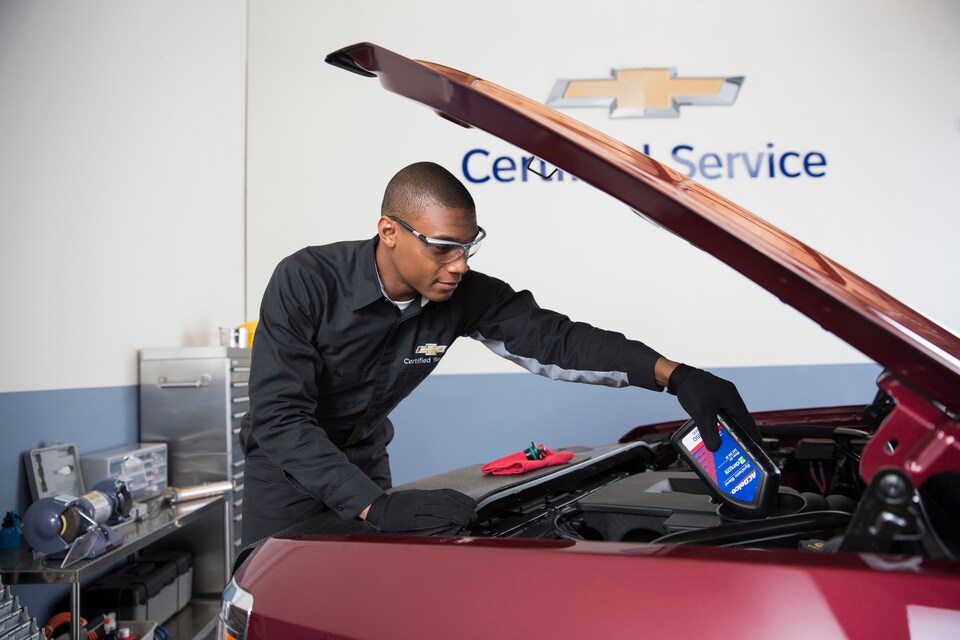 How to Keep Your Chevy Running Smoothly in Van Wert
Is it time for your pitstop? Whether you're driving on the race track or driving along the highway in Van Wert or Decatur, sooner or later, you'll need a pitstop sooner or later. But, when will you need it? What services will you need to get done? How often should you have one? If you've ever questioned how to keep your Chevy running smoothly through the life of your loan or lease, then you're at the right place. You'll find the answers to all those questions and more right here at Lee Kinstle Sales & Service.
What is a Service Interval?
A service interval is your recommended maintenance schedule for your particular make and model. Each automaker has a set time for each model to be inspected for performance and quality throughout its lifetime. The key to a well-performing vehicle is ensuring that your components are operating as expected. This is outside of regular oil changes, which should happen every 3,000-7,000 miles, fluid level top-offs, etc.
If you skip your service interval checks, you could risk major damage to your vehicle down the line. Preventative maintenance is key for a happy vehicle and a happy driver in Fort Wayne. Here are the Chevy recommended service intervals.
15,000-Mile Service
At this point, your Chevy is just over a year old. The first official maintenance check will be fairly simple for our professional mechanics at Lee Kinstle Sales & Service. Our team will check underneath your hood to inspect your components for wear and tear or damage. Your air filter may need replacing, and there may also be a tire rotation on the table.
Services Provided
Oil Change
Fluid Level Check
Tire Rotation/Balance
Air Filter Check/Replacement
30,000-Mile Service
Your next visit will occur about a year or a year and a half later. At this time, our professional mechanics will inspect your vehicle a bit more thoroughly. Many items checked at the 15,000-mile service will be inspected again, but this comprehensive examination will include more components.
Services Provided
Overlapping Services from Previous Mileage Check
Brake Pad Inspection/Replacement
Suspension and Shock Check
Fuel Filter Check/Replacement
60,000-Mile Service
At this point, you've become well-acquainted with your once-new Chevy. You've had four years of ownership underneath your belt, which means more components will need inspection or replacing. There is a more in-depth inspection as our professionals check for wear and tear, or possible trouble down the line.
Services Provided
Overlapping Services from Previous Mileage Checkup
Battery Replacement
Brake Rotor Inspection/Replacement
Check for Wear and Tear on Belts and Hoses
Transmission Fluid Replacement (if needed)
Gasket Replacement (if needed)
90,000-Mile Service
At about six years in, your vehicle will be closely inspected as it rounds out the final service interval check. By now, your Chevy will have gone through the gauntlet, and everything that needs replacing or repair will happen at this time. Our professionals will inspect your Chevy and ensure that it will be ready to handle the next 90,000 miles on the road in New Haven, IN, or Fort Wayne.
Services Provided
Overlapping Services from Previous Mileage Checkup
Complete Inspection of Every Component
Spark Plug Check/Replacement
Safety and Technology Feature Checks
Examination for Rust
Lee Kinstle Sales & Service
When you purchase a Chevy, it's not built to last just a few years. It's made to last for miles and miles down the line. The key to keeping your vehicle in excellent condition is by allowing our professional mechanics to inspect, repair, and maintain your Chevy from start to finish.
We have the right tools and equipment to ensure that your Chevy Camaro, Chevy Blazer, Chevy Equinox, and all other Chevy brands perform and operate at your expectations. If you think you've missed a service interval or need an oil change or any other regular maintenance procedure, you can contact us today. In most cases, we'll get you in, out, and back on the road in no time.